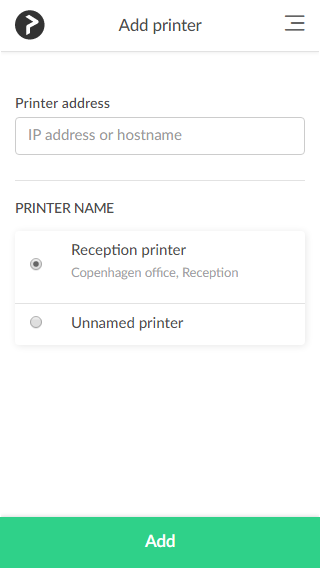 Requirements
As a trusted Technician you can be allowed to add printers to the print infrastructure.
You have a phone with: 1) Web browser and 2) Email access.
You can determine the Hostname or IP address of a printer by printing its configuration page or via the printer's menus.
If you have multiple networks you should be aware that printers can only be added to Network1 (the first network).
Add printer
Use your phone to read the email: "Printix – Invite Technician"
If you do not see the email within a few minutes then check your spam/junk mail folder.
Select Get started in the email.
The email is valid for 72 hours from the time of issue.
On the Add printer page:

Enter Printer address. Example: 192.168.2.10
You may be asked to Select printer based on the Printer name and Location defined by the person who invited you as Technician. If you do not find a match, select Unnamed printer.
Select Add.

Printer was added successfully
Printer was not added
When done adding printers Close the web browser.
Feedback
Thanks for your feedback.