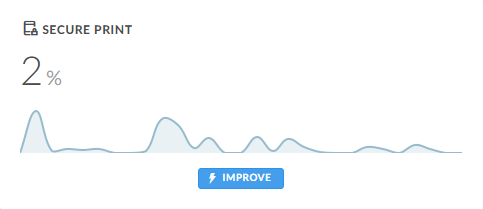 The Dashboard shows the percentage of pages for the selected period that have been released or reprinted from the Printix App by users from their phone, tablet or computer.
You can Improve document security and cost savings by increasing the percentage of documents which are released via phone.
Use the communication channels available (Email, Intranet, …) to inform users about the possibility to release and reprint documents from their phone. In your communication you may want to reference these sections in the Printix User Manual:
If you want users to always release documents (Print later or Print anywhere), then please submit a support request to us.
Benefits
Reduced printing saves on paper and toner
By not printing documents that never get collected anyway, your company saves money on paper, toner, maintenance and electricity.
Avoid stressful print and sprint
Wait until you have arrived at the printer, and then release the documents via your phone. That way, you prevent others from collecting your confidential and sensitive documents.
Make fewer visits to the printer
Submit documents for printing, but postpone the actual collection of the documents until it suits you to release them.
Delete documents you regret printing
From your computer, tablet or phone you can easily delete documents you did not need anyway. Without Printix such documents would go straight from the printer's output bin to the wastepaper basket without having been used.
Reprint recent documents
Because documents can be restored until 12 hours after they are marked for deletion, you can reprint documents straight from your phone. No need to walk back to your computer and print the document all over again.
Feedback
Thanks for your feedback.