Any Internet connected Windows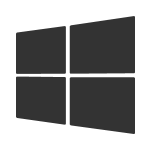 computer capable of running:
Windows Server 2019
Windows Server 2016
Windows Server 2012 R2
Windows Server 2012
Windows Server 2008 R2 (End of support 2020-01-14)
Requirements:
Microsoft Edge, Internet Explorer 11 or later must be installed on the computer.
Printix Client requires .NET Framework. Minimum version 3.5 SP1, but it will use newer .NET Framework versions if installed (4.8).

TLS

1.2.
How to find out the Windows 10 edition, version and OS build number
Select Windows Key+I to open Settings.
Select System.
Scroll to the bottom and select About.
In the section Windows specification you will find:
Edition. Example: Windows 10 Home
Version. Example: 1903
OS Build. Example: 18862.388
Feedback
Thanks for your feedback.