The Konica Minolta universal print driver is available for:
PCL


Print driver name:

KONICA

MINOLTA

Universal

PCL

PostScript
Print driver name:

KONICA

MINOLTA

Universal PS
Language support:
Uploaded with print driver. Need additional languages? Install the print driver with the required language and add the Windows print driver to your Printix driver store.
Configuration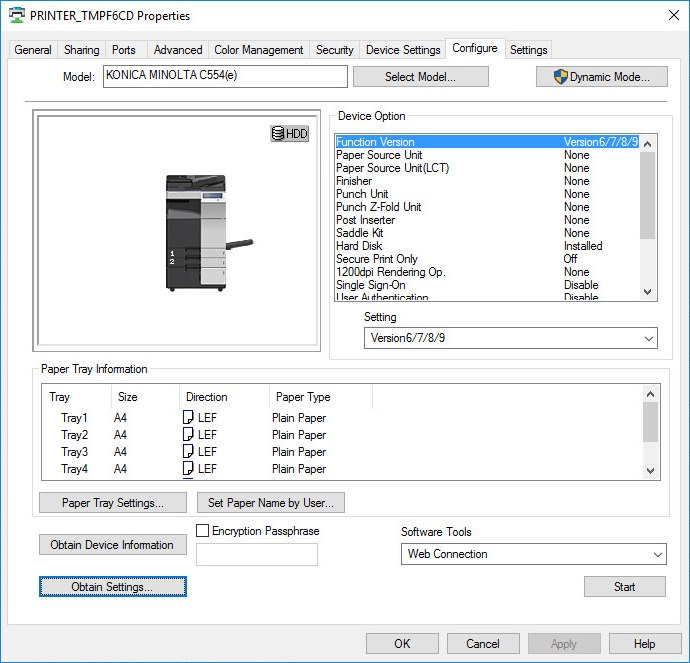 In Printix Administrator you can Add a new print driver configuration. The temporary printer's Printer properties dialog will open automatically. Proceed to make the configuration:
In the Printer properties dialog click on the Configure tab.
If Model is Baseline, then click Select Model. Click Auto or select the model. Click OK.
Click Obtain Device Information. Click Yes to update the device information. If you can not contact the printer you can manually configure:

Device Option and the corresponding Setting.
Paper Tray Settings.

Click Apply.
On the Configure tab click Obtain Settings…. Uncheck Auto and click OK.
Optionally open the Advanced tab and click the Printing Defaults… button to configure per-printer defaults. For example on the Quality tab you may want to change *Select Color" from "Auto Color" to "Gray Scale", so users will print in black by default.
Click OK.
Feedback
Thanks for your feedback.