Print to the Printix Anywhere printer and release the documents at any Printix printer via your smartphone.
Print on your computer
Open the item you want to print.
Click Print on the File menu.
Select the Printix Anywhere printer, click Print.
Release document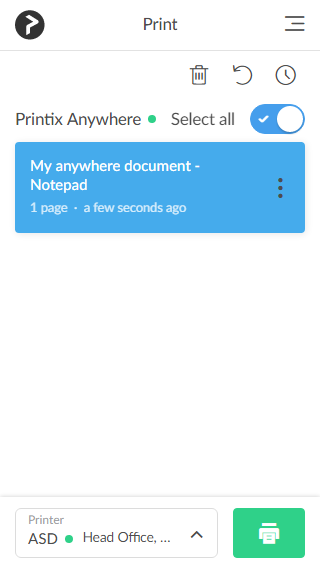 Open Printix App on your smartphone by clicking the Printix App link in the email "Get started with Printix …"

If you do not have a smartphone then open Printix Client menu and click Release and print documents…

Sign in to Printix App.
In Printix App click the print anywhere document to select it.
You can print to one printer at a time.
If required click Select printer or Printer at the bottom left of the page.
The Select printer page appears. Click a printer or click Cancel in the top right corner to return.
Click Print at the bottom right of the page.
Documents are automatically deleted after a period (default is 24 hours).
Feedback
Thanks for your feedback.